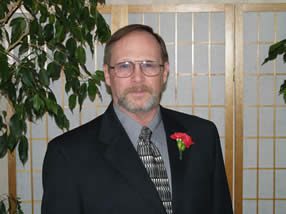 Professor Thomas H. Ryan Jr.
Professor
I began my studies of martial arts in the 1960s with American wrestling and boxing.  In 1972 I started training  in Tae Kwon Do, Karate and later Kodokan Judo while in the United States Army. I see these as my searching years.  I always felt something was missing. Then I discovered Kodenkan Danzan Ryu Jujitsu in 1982. I was home.  I received my Shodan in 1988 and am presently a Kudan (9th degree Black belt) with the title of Professor.
My studies have included Escrima, Wing Chun, Judo, Aikido, boxing, wrestling, Karate, Lua, Filipino knife, Kun Tao Silat de Thouars as well as other styles of Jujitsu. The healing arts of Danzan Ryu have been a big influence on my martial arts. The older I get, the more it is about the energetic threads in the techniques rather than the Physical movements of the techniques. Interestingly enough, this is true for me in both healing and martial arts.  You can not separate them. They are one and the same. One frustration that I have is that there just isn't enough time to study it all.
I have had many sensei during my Danzan Ryu martial arts career.   My first Danzan Ryu sensei was James Heidenger, AJJF Nidan (2nd Degree) in Eureka, California. I trained with Sensei Heidenger from 1982 to 1985 and received my Yonkyu or green belt prior to moving. My second sensei was Sensei Dave Gordon, Sandan (3rd Degree) and whom I trained with in Livermore, California from 1985 to 1986. My third sensei was Sensei (now Professor) Robert Hudson, Kudan (9th Degree). I trained with Professor Hudson in St. Helena and Santa Rosa, California from the fall 1986 until the summer of 1992. As life would have it, I moved to South Carolina where I met Professor Ramon "Lono" Ancho Jr., Kudan (9th Degree) and an original Okazaki student.  The year was 1994.  I was privileged to train with Professor Ancho for the next 10 years until his passing in January 2003.
Today, I am continuing to discover the inner secrets of Danzan Ryu by always training, always knowing there is more to find and never being content with how I am doing the techniques. Professor Ancho worked with me on the mental aspects of the Danzan Ryu arts. He was truly "the one" for me. He always encouraged me to go beyond my limits. He would always say " forget the politics and forget the socially correct thing. Just work on three things, train, train, and finally train."
Professor Ramon "Lono" Ancho Jr. gave me many gifts and insights but there are two that are special to me.
The first is my Rokudan certificate which is signed by five original Okazaki students from four different Kodenkan Danzan Ryu jujitsu organizations. There are only two such certificates in existence.  The fifth organization on the certificate is the American Judo and Jujitsu Federation.
The second is a certificate that he gave me that has both Professor Ancho Jr.'s and Professor Kufferath's signature, complete with their chops. He told me that one day I may need to fill the certificate in. I never will. It means so much more to me the way it is. I miss him dearly.
Professor Ancho had a saying, some people are athletes, some are warriors, some are statesman but oh the "ONE." Professor Ramon "Lono" Ancho Jr. was the " One" in my eyes.
I attended classes with Professor Sig Kufferath, Judan (10th degree), another original Okazaki student. I was always amazed at his physical conditioning and the depth of knowledge in Danzan Ryu. Professor Kufferath received his professorship directly from Master Okazaki. Professor Kufferath awarded me the title of Renshi, "polished expert," after graduation from his 1993 Okugi course. At that time, there had only been 14 such titles given since 1949 in Kodenkan Danzan Ryu jujitsu. When Professor Kufferath passed away his senior student, Professor Tony Janovich, Judan (10th Degree), took over his system of Danzan Ryu.  Keeping the tradition of holding an Okugi class every 10 years, Professor Janovich held an Okugi class in 2003.  I received the title of Shihan (teacher of teachers or professor) at the 2003 Okugi class.
I hold the title of Rokudan (6th Degree) with the title of Professor with Kodenkan Danzan Ryu Jujitsu Hombu,Costa Rica. I am Hachidan (8th Degree) with the American Judo and Jujitsu Federation and the American Traditional Jujutsu Association. In addition, I am a Sandan (3rd Degree) in Kodokan Judo, a Jujitsu Rokudan and a Master Jujitsu Rank Examiner with the United States Judo Association and have a Black Belt in Tae Kwon Do.
I graduated as a Certified Okazaki Restorative Massage Therapist in 1985 from the American Judo and Jujitsu Federation's Okazaki Restorative Massage program. I continued my training and received my Okazaki Restorative Massage Instructor Certificate in 1988. I received my Massage Therapist Instructor certification from the Human Touch School of the Healing Arts in 1990. I have been a Certified Instructor with American Organization for Bodywork Therapies of Asia (AOBTA) since 1993.
In 2005, I completed the course material to bring the healing arts of Kodenkan Danzan Ryu to the professional healing community. This was a 20 year project.  In August of 2007, the American Organization of Bodywork Therapies of Asia (AOBTA) accepted Pacific and Asian Restoration Therapies of Danzan Ryu (PART of DZR) as an Asian bodywork form.  PART of DZR is a 650 hour course of instruction in Master Henry S. Okazaki's system of Kodendan Danzan Ryu Jujitsu healing techniques handed down by his senior students.  This system is currently being taught nationally and internationally.
In September 2011, I was invited to train with Keith Okazaki Sensei in Hawaii. This was a wonderful experience for me. At the end of the training, Okazaki Sensei awarded me a certificate in basic Level of the Original Okazaki Restoration Massage. There are 4 signatures on the document: Henry Seishiro Okazaki, master and founder; Hachiro Okazaki, son of the founder; Keith Y. Okazaki, grandson of the founder; and Ray Miyashiro, President, Institute of Zen Studies. The signatures may not all be original as some are deceased but it was a wonderful gesture to put the lineage of the Okazaki healing system on our certificates. Okazaki Sensei shared much in the way of Aloha and Ohana with me personally. It was an experience that I will never forget. Keith Okazaki Sensei passed away September 17, 2013 at the young age of 65. I miss my friend, sensei and mentor.
My greatest purpose or reason for studying and teaching martial arts is to strengthen my spirit for all of life's challenges, to be discriminatory so I can gain wisdom, to have a positive impact on the youth and adults in my community and to be compassionate so I may serve others to the best of my ability.
Kodenkan Danzan Ryu Jujitsu constantly reminds me of how much I do not know. I am always looking beyond the technique to discover the inner meanings of their energetic motions. This has opened up a new world for me in the martial arts and the healing arts community. I have learned how to seek knowledge by looking for the things that are common between different martial and healing art systems instead of the differences.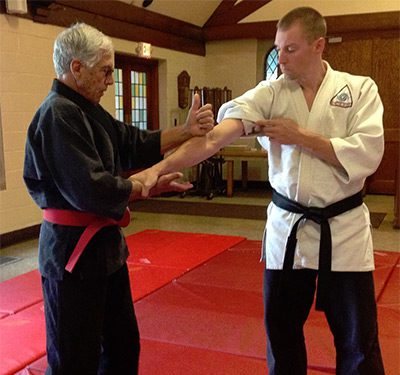 Renshi Patrick Hedgepath
Renshi
As a child growing up in the Karate Kid era I wanted to take a martial arts class but at the time we lived in the country so access to a martial arts school was not an easy task. So as my son became old enough to start in a martial art I began looking for a school for him to attend. This was in 2007. It just so happened my next door neighbor knew a guy that had been taking Jujitsu from a local Sensei for many years. That Sensei was Shihan Tom Ryan who I met at Palmetto Jujitsu Academy & Healing Arts Center and signed my son up for classes. Working from home I got to watch many of his classes. I said to my wife "That looks like a lot of fun".
Then I said the words that would come to define the next many years of my life. I said to my wife "I could whip that old mans butt!". So I signed up for the adult classes and two classes later I told my wife "That old man could kill me any time he wants to!" Then I proceeded to take a nice hot bath for my aches and pains. I was instantly hooked! How could this little old man manipulate my body in such a way that no matter what I did I could not escape. Something was always waiting for me. So my journey began.
I came to class every opportunity I could. At least 4 times per week. After 2 years of study I tested for and passed my 1st degree black belt (Shodan) exam in Danzan Ryu Jujitsu. 2 years after that I tested and passed my 2nd degree (Nidan) black belt exam. Shortly after this my Sensei told me about an incredible opportunity called Okugi. Okugi is a seminar of classes where the entire Danzan Ryu curriculum is taught by 10th Dan Professor Tony Janovich. This event only happens once every 10 years and you must apply to and be accepted by Professor Janovich in order to be allowed to attend. Based on my sensei recommendation I filled out and sent in my application right away. I received my approval and invitation and was honored to be able to attend. Those who graduated the course were awarded a Kaidensho and some participants received titles. I was honored with the title of Renshi "Polished Expert". This was a great step in my journey.
Currently I am a 6th degree (Rokudan) black belt in Danzan Ryu Jujitsu under Professor Ryan, a 5th degree (Godan) black belt in the AJJF and a 6th degree (Rokudan) black belt in the ATJA. My Sensei is currently a 9th degree (Kudan) in Danzan Ryu Jujitsu in the AJJF and an 8th degree (Hachidan) in the ATJA. I also currently hold the rank of Nikku in Iaido under Sensei Shuji Matsushita. I was honored by my Sensei to be added to our school as Co-Sensei. I love Danzan Ryu Jujitsu and I am passionate about teaching it to others. There is no better feeling than watching as a student first understands a concept or grasps a technique for the first time.
There are many choices out there where you can train in a martial art. This is an important decision for a person to make. Make sure wherever you decide to train you do so at a reputable school where the instructors are qualified to teach and those qualifications are backed up by a national or international organization such as the AJJF.